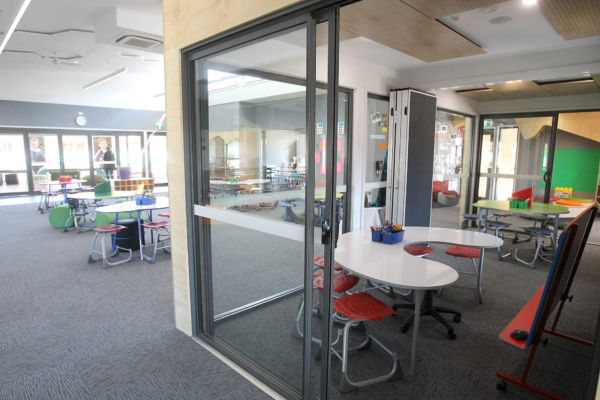 Before architects began to turn a 38-acre patch of land into St Anthony of Padua Catholic College Austral, Principal Lea De Angelis travelled further afield to help set the tone for learning.
A visit to schools in Finland, Denmark and the Netherlands in 2016 helped to inform the bright, open and inclusive spaces that will continue to grow as the school prepares to take high school students for the first time in 2021.
Beginning with Year 7, the school will evolve to include three stages of education – the existing 'School of Foundation' for Kindergarten to Year 4, a 'School of Formation' for Years 5 to 9, and the 'School of the Future' for Years 10 to 12.
The idea is that it becomes a community resource as well.
New spaces in each will retain the features that promote collaborative learning and community feel that will help to realise plans to make the school a dynamic hub for the Austral area as it develops.
"We are looking at ways our facilities can serve a wider purpose," said Principal Lea De Angelis.
"This includes a master plan that allows parts of our facility to be utilised outside school hours and be open to the community. That could be the sporting arena, a theatre, hall or gymnasium.
 "A big market garden is also planned and a possible trade training centre on site. We have a smaller garden at the moment that is run by our children where they grow vegetables and feed the chickens. This already supports children's learning about sustainability and the environment. The idea is that it becomes a community resource as well."
Planning and design for the new high school learning spaces is also underway. Like the existing primary spaces, they will be geared towards facilitating teaching and learning that helps students to aspire, achieve and act to make a difference in their communities and the wider world.
"Our secondary learning spaces will very much reflect the same philosophy we have here in the primary classes but the orientation will be slightly different," Ms De Angelis said.
"In the primary classes we have space where students sit on the floor to listen to the teacher. As they get older they need less of that space. There will be more collaborative spaces with booths, chairs and round tables where they can work together, and think and work through problems themselves."