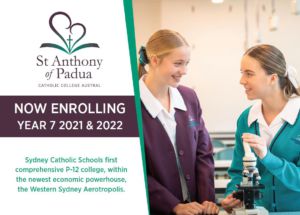 St Anthony of Padua Catholic College Austral is a forward-thinking community, looking to empower our students to become learners for life who 'aspire, achieve and act'.
By providing the tools and support for our students to actively engage with their learning, we encourage them to be independent, collaborative and creative thinkers. We will have a key focus on STEM subjects, with specialist educators and a purpose-built college for the 21st century. Our mission is to ensure our students are prepared for, and excited by, the possibilities of the future.
2021 enrolments are now open; Kindergarten to Year 4 and Year 7.
2022 enrolments are now open; Year 7 and Year 8.
For more information: